Dino's Gyros
, "Centrally located in the heart of Clairemont Towne Square."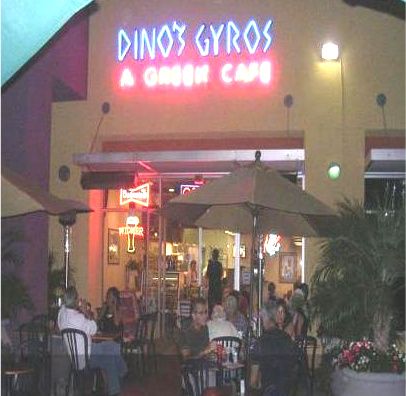 Especially now that they have a website, it's high time I gave a shoutout and review to Dino's Gyros. For several years I've loved to pick up their 1/4 Lemon Chicken Plate on Fridays--no special reason for the day of the week, except my Friday afternoons frequently are unscheduled. I've enjoyed their trademark gyros a few times, too...
Dino's Gyros opens onto a food court on the side of Clairemont Towne Square that includes a multiplex cinema as well as discount fabric/home textiles and hardware stores. There's inside seating for maybe a couple dozen, with outside tables and chairs for at least half that many. Large art prints of characteristic coastal Grecian scenes decorate the walls and help set a Mediterranean mood; everything about the place always is bright, light and uncluttered. You'll find the counter staff essence of politeness and hospitality and being able to observe the chefs cooking and assembling adds to the ambiance. Although there are no rest rooms, there's a no-cost community loo next door that's always clean and well maintained.
My favorite meal, the Quarter Lemon Chicken Plate, includes choice of white meat (breast and wing) or dark (leg and thigh). I always order the moister, more savory dark, except for the rare times I'm not there until after 4 and only the half chicken plate is available. I also routinely choose the simply perfect French Fries rather than the flavored rice option. Each order includes a small cup of tzatziki sauce, pita bread cut into 8 triangles and a tossed salad: tomatoes, lettuce, onions, black olive and pepperoncini, all lightly coated with tangy vinaigrette. At less than $7.00 including tax, the quarter lemon chicken is comparably priced with other offerings on Dino's Gyros mostly Greek bill of fare. They also have a wine and beer menu and specials for kids.
This definitely is a casual, come-as-you-are and enjoy-who-we-are venue. If you're in the Central San Diego area, I hope you'll visit Dino's Gyros and maybe even tell them Preservation Project sent you!