restaurant review
...not exactly a developed site, but
here it is...
.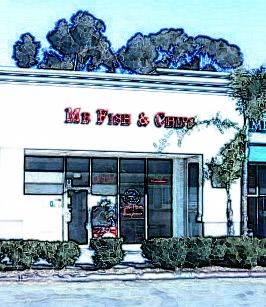 Their ads in the semi-slick coupon clippers we get in the mail intrigued me, so it was time to try the real thing. As the name of the eating place suggests and the bill-of-fare attests, Mr. Fish and Chips, situated away from the shoreline a few miles inland (but all of Paradise is coastal community) in a strip mall on an adjacent mesa, specializes in fried seafood (pacific cod(?), scallops, shrimp and clam strips), clam chowder and batter-fried accompaniments. They serve a limited selection of beer and wine, but I didn't notice any desserts, nor is there a menu you can take with you. However, you can phone in an order that will be ready to pick up when you get there.
Evidently the family-run quick food restaurant has been in that general location almost forever, since 1975, with the current spot the result of a recent move. Mr. Fish and Chips features brightly clean ambiance, six tables that seat 4 (or 6 in a scramble), a counter toward the back where you order from the menu board so they can call your number in 5 minutes or so when your tray is ready and a constant flow of customers for eating-in and taking-out. What good deals, maybe partly because it's cash-only! The only selection costing more than $10.00 is a family meal for a little under $20.00. For about $7.00 my neighbor and I each got a big piece of fish, either zucchini, onion rings or potatoes, fresh side salad of iceberg, red tomato wedges and chunky cucumber slices with choice of dressings. The basic price included 12-ounce cup of soda (no refills) or iced tea (with refills); you could order any item à la carte. They served the meal in paper-lined plastic baskets with disposable plastic utensils, but limited staff and space likely make dish-washing impractical. The batter was light, puffy, crunchy, appetizingly golden and took up almost as much space as the food it covered. Though it didn't have a lot of its own flavor, it also didn't taste greasy or "off" in the least.
At the start of the meal I really dived into the food, but by the end all the batter and fried stuff felt overwhelming, most likely because I've been eating simpler and healthier and almost never anything more than quickly sautéed or lightly pan-fried. Will I go back to Mr. Fish and Chips for another lunch? Probably, but it will become more of an every-few weeks event than a weekly occasion.