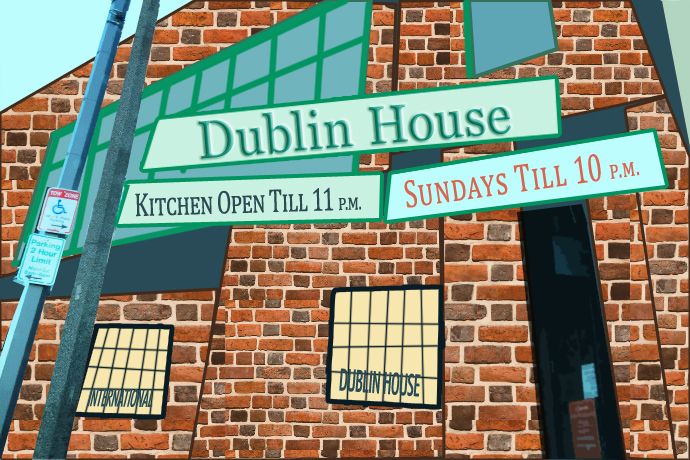 It feels like a very long time, but just 15 months ago I blogged this review of another (this time it's real, not imaginary) urban restaurant on
this far by faith.
Anticipating lots to do but with my days less structured, I hope to begin writing more reviews of eating establishments.
Another one! This takes us back to the same section of town in an earlier, simpler guise rather than in its later, increasingly sophisticated one:
Old-Fashioned Setting, Real Food: The Dublin House in Seaport Square
On a recent weekday afternoon we had lunch around two o'clock at Dublin House, a restaurant and bar at 9 Stanton Street in Seaport Square. With its vintage mahogany walls, Dublin House exhibits a solid, stable air. It has survived population shifts, retail business exodus, and the rest of the crises of the central cities. It is so much a survivor from another era that one gets the impression it will stay that way, even as another change - gentrification - arrives at Seaport Square.
The atmosphere of Dublin House is Irish, although the clientele – judging by the limited sample of four other diners we saw while we were there – reflected the diverse population of the area. Irish origins show in the faded country scenes of the wallpaper above the mahogany wainscoting, in the waitstaff's lively conversations with the regular customers, in the traditional Irish melodies found amidst the top forty and country-western jukebox selections. Bing Crosby crooned the Irish songs, we might add.
With the same menu for both lunch and supper, Dublin House stays open and serves food from 8 a.m. to 11 p.m.. Consequently, the plates we ordered, although a bit high for a workday lunch, would be reasonably priced if ordered in the evening. Three of us were together this time, so we sampled a variety of selections. We ordered Fish and Chips on the regular menu at $5.75, and two of the several daily specials: Chopped Sirloin Steak and Hot Open Turkey Sandwich, at $5.25 each. The fish part of the Fish and Chips was fried haddock, and it was outstanding in both appearance and flavor. The portion was very generous; the filet had been dipped in a light batter and browned perfectly—we can hear someone on TV saying "fried to golden perfection!" The chips were steak fries, and they were greaseless, well-browned and well-cooked on the inside. Along with these went good cole slow made without too much mayonnaise or too much vinegar and a generous helping of classic Tartar Sauce.
Both the Hot Turkey and the Chopped Sirloin came with a choice of mashed potatoes or fries and string beans or cole slaw. The Hot Turkey came from an actual turkey or turkey breast and was not the synthetic-tasting pressed stuff called turkey roll. It was real! The Chopped Sirloin, looking like a large hamburger (definitely more than ¼ lb.) was greaseless and well-flavored. They served both meats with gravy, and (believe it or not!) the two gravies were different. That with the turkey was light and suitable for poultry; the Sirloin gravy was definitely beef. Despite the green string beans coming out of a can, they were hot and did not detract from the meal. Like the turkey, our potatoes were real, and not packaged reconstitutes. We should add that before the actual plates arrived they served us ice water without our requesting it, a basket filled with six slices of good packaged wheat bread, plus a small plate of butter.
To us as eagerly hungry diners, the hallmarks of Dublin House fare are the "realness" of the food and the ample portions. Consequently, although we had to wait a longish twenty minutes before getting our food, we would like to think this related to its authentic quality. Perhaps they actually were mashing the potatoes! A more likely explanation, however, is that we came at a slow time when the kitchen was not prepared for quick service. We assume food delivery during real lunch hours is faster.
Although our meals cost more than one would care to spend on lunch every day, the menu did contain less expensive items. Sandwiches prices ranged from $2.95 for a Grilled Cheese to $3.95 for a Bacon Burger. So one in quest of a $4 lunch could be well satisfied.
A few final words about the physical atmosphere of Dublin House: the bar is well separated from the restaurant section, a wall with only one small opening between them. The women's rest room, although not well-scrubbed and gleaming enough for a TV commercial, is clean and well-supplied. The restaurant is dimly lit, which we found restful. The absence of air conditioning might prove a problem on the hottest days, but with low eighties outside we stayed comfortable.
All things considered, if you're in the area of Seaport Square, you can't go wrong by ducking into Dublin House for lunch or dinner, just as we did!