"You'll always come back for more."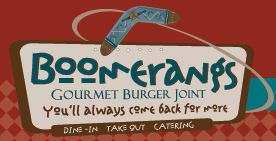 I'll definitely go back
for more to
Boomerangs, San Diego, CA
, where bright southwestern-hued paint and streams of natural light surrounded us from the moment we entered the building; as we enjoyed lunch, succulent burgers and accompaniments tantalized us. The website insists, "Boomerangs is the place for you. We make all of our burgers with 100% Angus beef with the freshest ingredients and our handmade sides are a must try!"
To create your own burger
, you get to add any three toppings and mixers, one cheese and one homemade side to a basic
1
/
3
,
1
/
2
or
3
/
4
pound Angus burger. Besides beef, there are additional non-vegetarian plus portabello mushroom or

veggie burger options. The website displays most of the menu items we got to choose from in the restaurant. Prices are modest for such fresh excellence; due to its quality and the fact it didn't shrink much during cooking the 1/3 pound burger was so substantial I'd have been happy to be able choose a smaller, quarter-pounder, especially since the sides added more substance.
Paintings
by San Diego-based artist
Mark Smith
arrayed themselves on the walls; Jose, our server explained the art was for sale but Boomerangs had the privilege of borrowing them for a spontaneous exhibit until they were sold.
If you're not too far
from the San Diego area beaches it's worth a trip to Clairemont for lunch at Boomerangs. The restaurant is open every day of the week, so you can't miss. Other features include daily happy hour from 4 to 7 and brunch on Sundays from 10 to 2 with "free-flowing champagne and mimosas," fresh fruit and salads, hot entrees, omelets and desserts.
Most likely
you'll always go back for more!