If you're not from the prairie...
by David Bouchard (author) and Henry Ripplinger (illustrator) on Amazon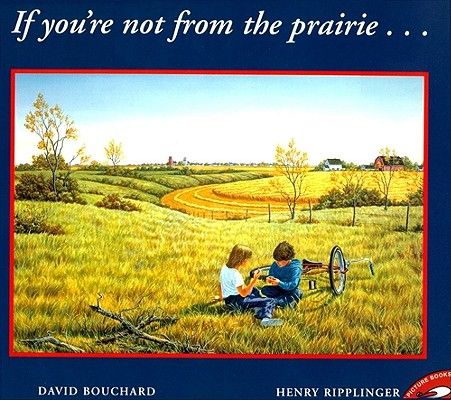 I'm not from the prairie, but...
...I love and understand this book. If you're not from the prairie you don't know, you truly cannot know the particular feel of those winds that constantly course through the fields, the special warmth of the way the sun penetrates your entire being. So is being from the prairie so exclusive winds only blow on the prairie, sun shines only on prairie fields and prairie folks? Not at all! In a similar sense, I could claim if you're not from the coast of southern California (or if you haven't lived there long enough to catch its spirit), you can't know how the sun specially graces those beaches, how the ocean waves energize your imagination. If you're not from the southwestern desert, you may have seen southwest sunsets photographs, but without basking in their glow, you don't have actual knowledge of them. Maybe you've lived in a certain large city in a certain section of the world? After a while you'll know the spirit and the sense of that city, but you don't know, you cannot really know the sensibilities of another city of similar size the inhabits a different longitude, latitude, its geography and topography. Most likely you've experienced not only different quality of light during different seasons and differing times of day, but the sun does shine differently in different parts of the world, on different landscapes and cityscapes. In other words, one place is not every place.
Author David Bouchard and illustrator Henry Ripplinger both are native to the Canadian heartland, and capture the prairies with gorgeous full-colour, slightly retro illustrations. The book's layout is wide and open, with stair-stepped text and an image vignette on the left side, a large illustration on each right-hand page. At different prices for different sizes, you can buy limited edition prints of the pictures, as well as a "Frameable Art Card" on Hentry Ripplinger's site. You also can discover the title of each painting as well as closely related paintings―maybe that didn't make it into the book this time?
my amazon review:
I'm not from the prairie but...