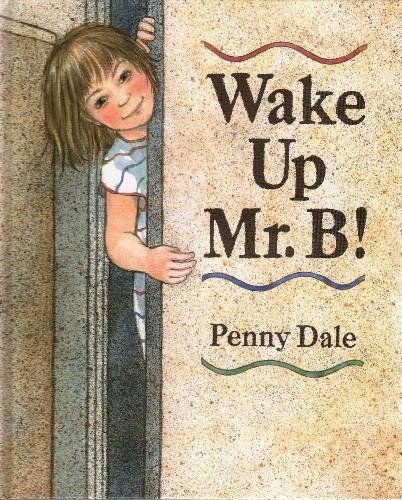 Wake Up Mr B!
by Penny Dale is a book for lovers of dogs in general, airedales in particular, kids, art, books, animals, pets and people. I bought it at the local library sale because the enchanting illustrations were irresistible. My copy is bound in boards and durably sewn in signatures; Amazon listed several copies of the paperback version and there were a few on eBay, too.
What a visually lovely book, and the narrative's easy to track, whether you do it via the gentle pictures or the very sparse large-type text displayed in simple sentences at the bottom of some of the pages. Rosie's the daughter, Billy's her brother and Mr B is the big, sort of shaggy, airedale-style family dog. Although the brother and sister appear to be caucasian and they live in a 2-story dwelling, the story could be set in almost any Western hemisphere country, almost any small town to large city and even almost any time from the latter part of the 20
th
century (the © is 1988) into the current 21
st
. In other words, these are regular people living regular lives almost anyone could relate to and appreciate.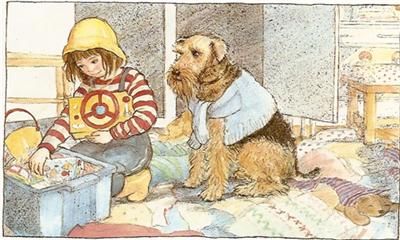 Very very early on an unspecified day of the week, Rosie wakes up and gets out of bed rarin' to go and ready to play. She can't drag her brother Billy out of bed or rouse her parents from their sleep, but she goes downstairs and convinces Mr B to wake up. Rosie gets dressed and dresses up Mr B and they play play play, imagining and acting out driving to the seashore, getting into a boat, sailing around the world and flying to the moon. The last page outcome? Rosie and Mr B end up falling back to sleep themselves, and the rest of the family wakes them up for the rest of the day.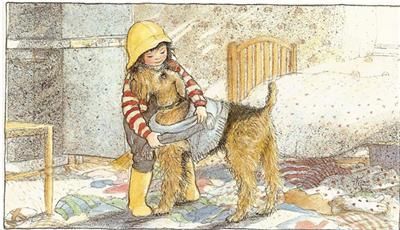 Wake Up Mr. B!
is an excellent choice for an teenager or adult who loves beautiful art and illustrations, or for preschool through grade 3 or 4 kids who love to look at pictures, place themselves in a different world and read for themselves. You'll enjoy everything about this book!
my Amazon review:
kids, a dog, imagination and art